By Jorge Paiz
Director Peter Jackson returns with the Epic Prequel to J.J.R Tolkien's  "The Lord of the Rings" Franchise with his new movie The Hobbit. Actor Martin Freeman stars as the lead role playing young Bilbo Baggins along with Actor Ian Mckellen wo once again takes his role as the wizard Gandalf, Along with actors Christopher Lee playing the wizard  Saruman and Hugo Weaving who takes the role once again as the elf Elrond.
After seeing the film opening day I must say that Peter Jackson has out done him self once again paying proper respect to Tolkien's novel and book series. The cast Jackson has to fill the roles of these lovable and memorable characters, giving the film the feel that everyone expects  from this kind of movie. Martin Freeman gave young Bibo Baggins that if factor of  venerability, courage, adventure, and innocence that gave his character what  the audience can relate to as well as sink their teeth into the story line.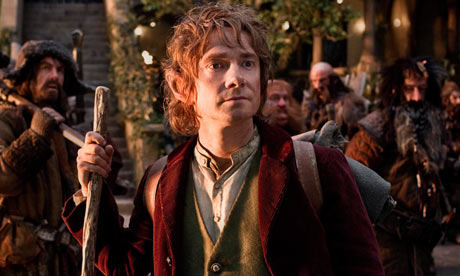 What also made the film worth watching was the well balanced nature of special affects used ro make the artwork and detail of each scenes whether they where in the mountains fighting Orcs or in the forests Peter Jackson vision leaves a rapturing  impression all through out the movie as  you are watching it. Top put the icing on the cake  with this film the story line with the company of the 13 dwarf characters in the quest they par take for their treasure keeps you on the Edge of your seat filled with suspense. this movie had moments that made me laugh cry and want more to the story.
At the end of the movie the whole audience stood up in standing ovation to a wonderful masterpiece that The Hobbit turned out to be. This movie did so good it grossed in $37.5 million dollars. As for the future of The Hobbit and The Lord of the Rings Franchise there is said to be another movie coming out by next year in 2013. may it be as Epic as this one.
Join the Forum discussion on this post
Subscribe to our mailing list
LEAVE A COMMENT HERE DUDES - TELL US WHAT YOU THINK